Like many, writing or editing your resume is probably not your favourite thing; nonetheless, it is critical to landing the job you want. While resume writing is far from an exact science, there are many things you should and should not do. Here are eight of the most common resume writing mistakes and how you can avoid making them. 
1. Don't Include "References Available Upon Request"
It used to be common practice to include the statement "references available upon request" at the end of your resume. Don't do this. It is no longer necessary. In fact, every employer knows that they can ask for your references and will if they need them. Resume space is at a premium, and this space is a precious space that is better suited for other content.
2. Don't Hyperlink Important Information
With the world becoming more digital, it can be tempting to fit more information into your resume by inserting links. However, be sure not to hyperlink incredibly important information. After all, links can be broken or a server down. You don't want the info to be inaccessible to the person reading your resume. If you hyperlink your LinkedIn profile, be sure to write the full URL so it can be copy-pasted if the link is broken.
3. Don't Use Creative Templates You Find Online
If you like creativity, you can probably find many templates online that look fun to play along with. While there are so many places where creativity can thrive, a resume is not a good place for this experimentation. Creative templates such as those found on Canva can be difficult to process in Applicant Tracking Systems. As a result, a system's inability to process your resume could be the reason you get passed by for a dream job.
4. Don't Attempt to "Beat the Bots"
If you've spent a bit of time reading about Applicant Tracking Systems, you've probably seen the tip of typing lots of keywords in white font so that the system sees them and increases your score. Never do this. The main reason is that many ATS systems convert all text to black, meaning that your white text will be visible when a hiring manager actually looks at your resume. This will make it clear that you were trying to cheat the system.
5. Don't Upload Resumes as Images
The harsh reality of an ATS is that sometimes it will shift the formatting on your resume. Some people attempt to prevent this by submitting their resume as an image file. While this sounds like a creative solution, it really isn't. It will confuse the system, generate errors, and be frustrating for hiring managers trying to read your resume. Always submit resumes in the acceptable format indicated, typically either .docx or .pdf. 
6. Don't Squeeze Information
If you have plenty of accomplishments, you may want to squeeze every last word and line into your resume. After all, you want your prospective employer to know all about you. However, white space is incredibly important for promoting a resume's readability. Having too much text on a page can make it difficult to read, hurting your ability to communicate your strengths. Resumes can be up to three pages in some industries. Find out your industry conventions instead of trying to squeeze everything on one singular page.
7. Don't Include Your Entire Career
If you are a seasoned professional, listing your entire career on a resume would likely require pages upon pages. Not only is this cumbersome, but hiring managers aren't really interested in what you did 20 years ago. Focus instead on your most recent 10-15 years, particularly the experiences that are most directly relevant to the job you are currently applying for. This will help ensure that the right things are communicated to the hiring manager.
8. Don't Use Passive Voice
Using passive voice on a resume can often waste space unnecessarily. It also can help diminish your own role in your successes. Ensure that you are using active voice. Start each bullet point with a strong action word (i.e., exceeded, created, trained). This is a good tip to help ensure that you use an active voice throughout your resume.
Final Thoughts
Resume writing is truly an art form. However, there are some critical mistakes that can be made. Avoiding making these mistakes is essential to ensuring that you get the most out of your resume when applying for jobs. Consider these eight tips when editing your resume, and let us know other suggestions you have for things to avoid.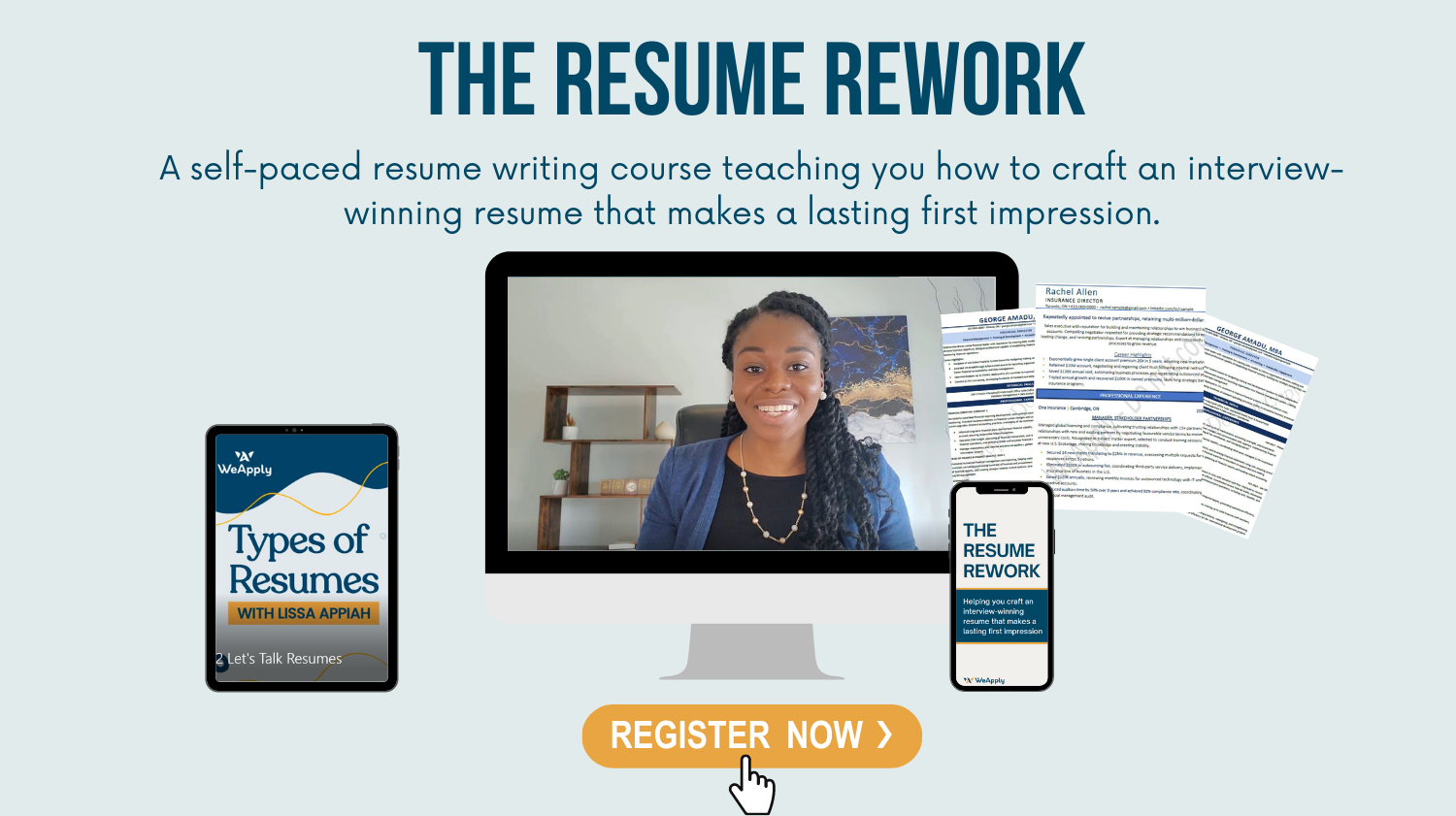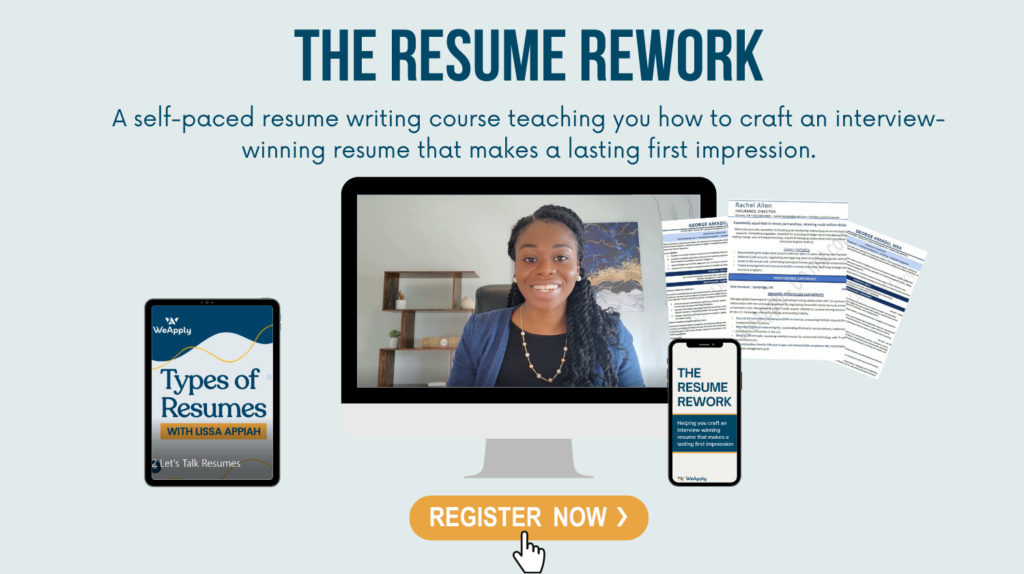 The Resume ReWork is a self-paced course where I teach you how to craft an interview-winning resume that makes a lasting first impression.

The course includes:
Signature recorded trainings with a Certified Career and Resume Strategist
2 Resume Samples (used by past clients to get hired!)
ATS-Compatible Resume and Cover Letter Templates
Personal Branding and Storytelling Worksheets
Job Search Accelerated E-Book (Value $87)
Personalized review of your new resume by a professional resume writer following course completing
(Visited 30 times, 1 visits today)